December, 2003....J. Dana Hrubes...updated December 30, 2003 , 2249 GMT
(CLICK ON UNDERLINED LINKS FOR PHOTOS....CLICK "BACK" ON YOUR BROWSER TO RETURN TO THIS PAGE)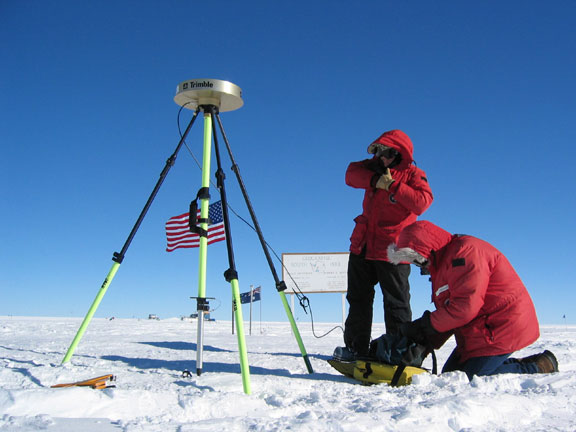 Data is recorded from the gps antenna on the tripod in order to locate the site for the geographic South Pole for January 1, 2004. This data is used in conjunction with base station data that is acquired from the GPS reference station on the skylab building. This two-mile-thick glacier moves approximately 10 meters per year grid west. The location of the pole on January 1, 2003 is seen about ten meters away in the background.

December at the Pole - mid Summer Season

December is mid-Summer season at the pole. There are many LC-130 flights from McMurdo Station to the Pole bringing equipment, supplies and personnel. LC-130 taking off Principal investigators are visiting for the many science projects and the new station construction team is taking advantage of the good summer weather with around-the-clock work crews consisting of three shifts. new elevated station, Dec. 2003 I have had much activity at many of my remote antenna sites so I have used the German Pisten Bully, a tracked vehicle to get to the sites. Snow piles up after years and many vaults require digging out for extensions to be added and sometimes there is electronics maintenance such as the replacement of signal pre amps or leveling of magnetometers. me and my Pisten Bully digging out the VLF antenna vault to add extension

This year I am responsible for 11 projects, most of them investigating upper atmospheric physics and solar- terrestrial interaction. Brief description of the Cusp Laboratory Projects for 2003-2004

The USGS-GPS team was here for a few days and since I operate the GPS reference station for USGS, I assisted in resurveying markers at critical station boundaries as well as work with the team in establishing the location of the geographic south pole on January 1, 2004. The two-mile-thick glacier that we are living on moves due grid west about 10 meters each year, so we install a new marker at the January 1 location every year. me and Al at the old Jan 1, 2003 location location of the pole Jan 1, 2004 marked with bamboo pole until New Year ceremony This consisted of setting up the GPS antenna on each bench mark and taking satellite data for about 15 minutes. This data was then referenced to the base station data that was simultaneously collected in sky lab. final sanity check: measuring distance from 2002 to 2003 marker We also spent a day surveying some critical points on station. survey at approach of skiway survey upwind of skiway clean sector/quiet sector boundary mark

On Christmas Eve, we had a nice Christmas dinner with Beef Wellington and King Crab. It was the first Christmas dinner in the elevated station. christmas dinner The elevated station is the third station built at the South Pole since the International Geophysical Year (IGY), 1956-1957 and the South Pole has been manned ever since. The first Christmas dinner at the pole was during the IGY in 1956. first christmas at the pole, 1956 Chet Segers, the winterover cook (the first winter 1956/57) Chet baking bread (photos by Chet Segers) On Christmas day, we had the race around the world. The race was about two miles long and circled around the geographic pole four times. The winner came in at 14 minutes 15 seconds, which is great considering we are at a pressure altitude of over 10,000 feet and the temperature, although at a summer high of -10 F, makes running tough. On top of that the snow surface was soft and it was similar to running in soft sand. I won the 50-60 division, with 17 minutes 45 seconds, which is respectable for someone at age 50. starting line (I'm on the right with green hat and neck gaiter, photo by andrea dixon) runners (photo by troy wiles)
A Real-Time Photo of South Pole Station as Seen from the ARO Building (live when satellite is up)
A Comprehensive South Pole Web Site by Bill Spindler

Winterover Web Pages (Bill Spindler's List)

SOUTH POLE 2003-2004 HOME PAGE