October, 2003....J. Dana Hrubes...updated January 8, 2003 , 1827 GMT
(CLICK ON UNDERLINED LINKS FOR PHOTOS....CLICK "BACK" ON YOUR BROWSER TO RETURN TO THIS PAGE)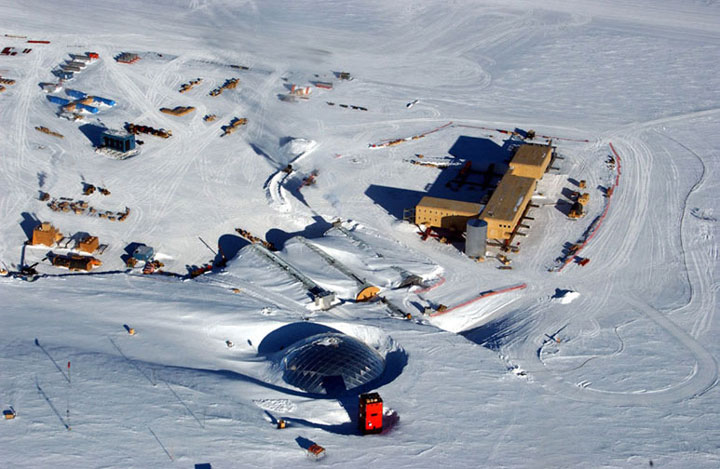 Aerial View of Amundsen-Scott South Pole Station Showing the New and the Old......the new elevated station under construction and the

nearly buried Dome and Skylab (circa 1975)

[photo by NSF]
Back at the South Pole - October 25, 2003
It felt good to be back at the pole, flying in on the first LC-130 flight of the season. It was about -65oF and everything looked about the same with the exception of the new elevated station. Two years of progress had tripled the size of the station from when I left 2 years earlier. In fact, the first module, nearest to the shiny aluminum clad "beer can" was now inhabited and contained 40 berthing rooms and a new galley with windows. The "beer can" is the cylindrical structure that contains the 13 flights of stairs or 92 steps from the tunnel level to the second floor galley. Most people walk up these 92 steps many times a day, and at a pressure altitude of between 10,500 ft and 11,500 ft, it can make one quite winded. For me, I decided to choose a room in upper berthing in the dome. I like the dome and it is near much of my work. Two of my laboratories are in the first two floors of skylab, the orange tower, which is connected to the dome through an under ice tunnel. I may choose to live in the new elevated station for winter. I'll make that decision later. I also have a building in the Dark Sector, one kilometer away and a lab in the Atmospheric Research Observatory (ARO), about 1/2 kilometer away. ARO is where the camera is that takes live images of the station. (See link below)

A month before leaving for New Zealand, the 2004 winterover group attended an Outward Bound Course at 10,000 ft in the Rockies in Leadville, Colorado. This is where we first got to know the people we would be working closely with for over a year. After the Outward Bound Course we all attended a fire fighting school at the Rocky Mountain Fire Academy in Denver. Here, we learned basic fire fighting skills, how to work with each other, and how to perform search and rescue. Fire is a serious matter at the South Pole because of the extreme isolation, the lack of water, and temperatures that can drop into the -110's Fahrenheit. Training includes fire fighting with water, although we don't have that option at the Pole; only fire extinguishers, dry chem and carbon dioxide basic extinguisher technique bunkered up with MSA air packs(photo by Sean Ryan) cooling off after search and rescue in the burn building team fighting a propane tank fire(photo by Sean Ryan) repelling

On October 13th, I left Rhode Island for Christchurch, New Zealand. There, I met up with many of my fellow winterovers as well as other friends I had met years earlier. New Zealand is a beautiful country and it was nice to spend several days there. On October 18th, the flight from Christchurch, New Zealand to McMurdo Station, Ross Island, Antarctica was much nicer than in previous years thanks to a flight in a C-17 transport, instead of a C-141 or an LC-130. There was quite a lot of legroom compared to the other aircraft. C-17 flight.

Once we got to McMurdo Station we had additional fire training before leaving for the pole on an LC-130. Before leaving for the South Pole some of us did get the opportunity to take a trip out to Cape Evans over the sea ice on a large-wheeled Delta vehicle. two deltas at cape Evans After the 2 hour ride we left the delta and visited Scott's Hut where the ill fated expedition to the South Pole was staged from. scott's hut The inside of the building has been preserved the way it was left by Scott when the team left for the pole. dining table Near the hut is a hill with a commemorative cross for the men who lost their lives. cross At the edge of the sea ice you can see the edge of the glacier that is moving down from Mount Erebus Scott's hut with Erebus glaciers

On the trip back to McMurdo Station, we saw a rare sight. A group of Emperor Penguins crossing the Ross Sea ice came over to our vehicle and the crossed in front of us. It was an interesting sight. Curious Emperor Penguins

On October 25, most of the winterover group left on the first LC-130 aircraft of the season to the South Pole to begin our 13 month stay..

A Real-Time Photo of South Pole Station as Seen from the ARO Building (live when satellite is up)
A Comprehensive South Pole Web Site by Bill Spindler

Winterover Web Pages (Bill Spindler's List)

SOUTH POLE 2003-2004 HOME PAGE