October, 2004....J. Dana Hrubes...updated October 31, 2004 , 0711 GMT
(CLICK ON UNDERLINED LINKS FOR PHOTOS....CLICK "BACK" ON YOUR BROWSER TO RETURN TO THIS PAGE)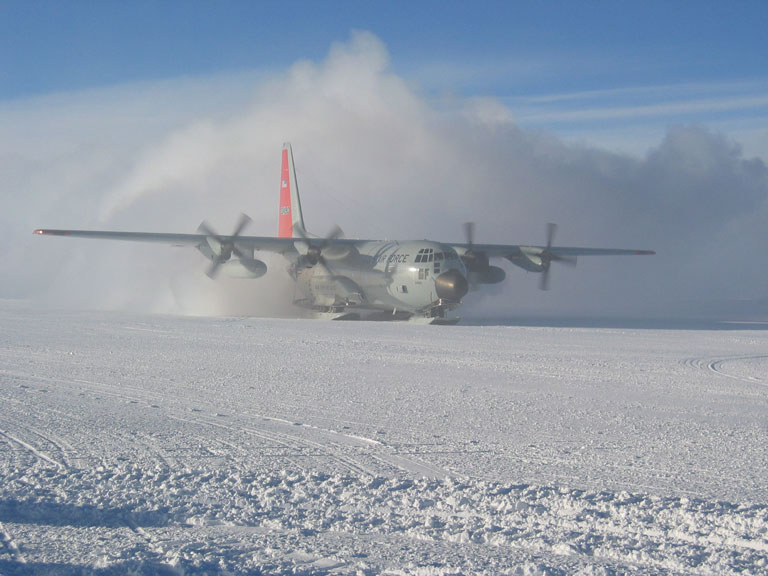 The first Air Force LC130 aircraft to land at the South Pole since February 15th. It was one of the
coldest landings ever at -68 F with the engine exhaust creating a spectacular vapor contrail

October at the Pole - Station Opening Day

October brings the first aircraft since station closing in mid February, but with it brings a very hectic time. There are many station tasks such as putting up aircraft skiway flags, taking down flaglines to various sites, moving alot of snow by shoveling and using Caterpillars, cleaning up the station, packing personal items, cleaning your room and moving out to the Korean War Jamesway tents in summer camp for a couple of weeks. In addition to that, I have many things to do in the laboratories such as monthly reports, annual reports, the creation and update of program manuals for each of my 11 projects, cleaning up the lab spaces among many other things. This year I am scheduled to leave November 1st, weather permitting, on a straight-through flight. That means I leave the Pole on a ski equipped LC-130, fly 3 hours to the ice runway at Williams Field at McMurdo Station, then transfer to an Air Force C-17 aircraft and fly about 6 hours to Christchurch New Zealand. winterovers watching our replacement crew depart the aircraft cold liftoff the dome entrance dug out for station opening skiway flag installation crew toward summer camp the geographic South Pole snow on ARO compressed gas bottles

Early October is when you see what the wind has done to the surface of the Antarctic plateau and see what you were tripping over all winter.
sastrugi antenna field drift at the geographic South Pole (by S. Ryan) drifted flags polar plateau

I finished the last diagnostic procedure for the mount for the Search for Extrasolar Planets telescope. Hopefully, they now have enough information to repair the mount this summer season, while I am on vacation. removing controller circuit boards configuring boards for troubleshooting tests

It is now time for wrapping up the season in the Cusp Lab and the other 4 locations I have. The infamous back door of the lab is getting tougher to keep open each year. working in the cusp lab in the cusp lab the entrance hole to the back door looking out of the door leaving the back door entering the lab the tunnel from the dome to skylab tunnel ice crystals some of the Cusp Lab antennas

The winter band played its 6th and last concert of the winter season for the winterovers and some of the 110 new people who arrived on the first three flights. I have been the drummer along with 5 other musicians all season. It was out best gig of the season, but the sad part is that we will never play together as a band again. Since I am wintering again next year, I am already recruiting musicians for next year's winter band. rock and roll drum solo dancing sax solo We also had an awards ceremony to pick up our Congressional Antarctic Service Medals.
NEXT MONTH: I'll Be Surfing in New Zealand!!!!
..... Be Back at the Pole in February!


A Real-Time Photo of South Pole Station as Seen from the ARO Building (live when satellite is up)
A Comprehensive South Pole Web Site by Bill Spindler

Winterover Web Pages (Bill Spindler's List)

MY SOUTH POLE 2003-2004 HOME PAGE