March, 2005...

.

J. Dana Hrubes...updated March 31, 2005 , 0001 GMT
(CLICK ON UNDERLINED LINKS FOR PHOTOS....CLICK "BACK" ON YOUR BROWSER TO RETURN TO THIS PAGE)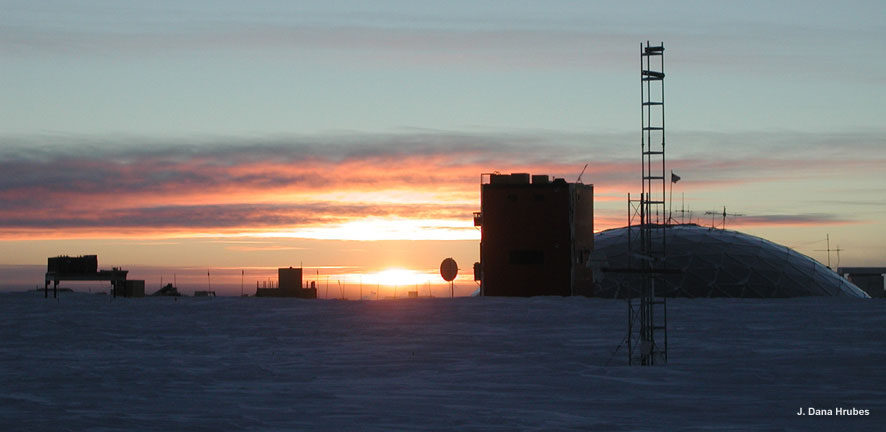 The last view of the sun as it sets for the next six months. It will rise again on September 21

March at the Pole - sunset

March is the month that we get our last look at the sun before the six dark months of winter. A storm came in right about at sunset, but the skies finally managed to clear in time to give us some beautiful colors. dome sunset new elevated station station from the dark sector power plant exhaust exhaust in the atmospheric inversion layer makes it drop to the surface

A few of us spent a few days in March installing flag lines using bamboo poles, flags and rope to all of the sites we visit every day. These lines become very valuable once it is dark and when there are high winds and whiteout conditions. bamboo forest

The following panoramas were taken during the sunset period.



Panorama with the geographic South Pole at the left, then skylab and the dome, the new elevated station and then the dark sector about one kilometer away. (Scroll to the right to see the entire panorama) The Atmospheric Research Observatory is between the American flag and the South Pole sign and the SETI telescope is just to the left of the sun



This panorama was taken about 2 days before sunset in the "dark sector" while I was walking to one of my buildings.
(Scroll to the right to see the entire panorama)
In fact, one of the buildings I visit daily is the farthest one out and is the little plywood shack near the middle of the panorama just to the right of the white building on stilts and to the left of the smaller blue building. The dark sector is where we have most of the telescopes and is almost a mile from the station. On the left side of the panorama, about a mile away, you can see our new elevated station, where we live, the old dome and skylab, along with the setting sun and the exhaust from our power plant blowing downwind. To the far right you can see two of the radio telescope buildings.




This panorma was taken in the "clean air sector" while I was walking to the SETI telescope.

(Scroll to the right to see the entire panorama)

The clean air sector is where we have the Atmospheric Research Observatory (where we measure greenhouse gases, ozone, and other things). The SETI telescope and heated service building with American and Australian flags flying are to the far left of the panorama, the dome and the new elevated station are about 1/3 mile away in the middle of the panorama, and the Atmospheric Research Observatory is to the right.



The old galley and bar building that was in the dome was demolished this month in preparation for eventual removal of the dome from the South Pole.
galley going galley going galley gone

Finally, we had a rescue drill this month where 3 of us on team II in our fire gear, but without our air tanks (fortunately), had to go down into the crawlspace or subfloor of the new station, find the "victim", put him on a backboard, weave him through the maze of cables, pipes and ducts, and get him up to out of the confined space. (photos by H. Lim)
opening to the sub floor
crawling under structure and pipes to reach victim
reaching victim and taking vital signs and assessing medical condition
after strapping victim on backboard we are starting to take him out
we are pulling the victim over some pipes, I am on the left
more pulling and lifting
Robert and I have him to the sub floor opening


victim rescued – drill over



Finally, we just got a taste of the darkness to come. The full moon was visible yesterday in the diminishing twilight. moon over SETI telescope

And then on the 30th of March, we saw our first visible object in the sky, the planet Jupiter at 5 degrees above the horizon. Jupiter


NEXT MONTH: The first visible auroras


A Real-Time Photo of South Pole Station as Seen from the ARO Building (live when satellite is up)

A Comprehensive South Pole Web Site by Bill Spindler


Winterover Web Pages (Bill Spindler's List)