The elevated station, the dome and skylab silhouetted by the setting sun


On the 21st of March, we had the traditional formal sunset dinner. It was a beautiful dinner put on by the galley staff and volunteers.
dinner setup
the chefs
steak and lobster
salmon
dessert
dinner
Since the weather has been getting colder, -80's F (-60's C) we are getting a little frostier now on our way to the dark sector. We walk about 4 miles a day to and from the telescope.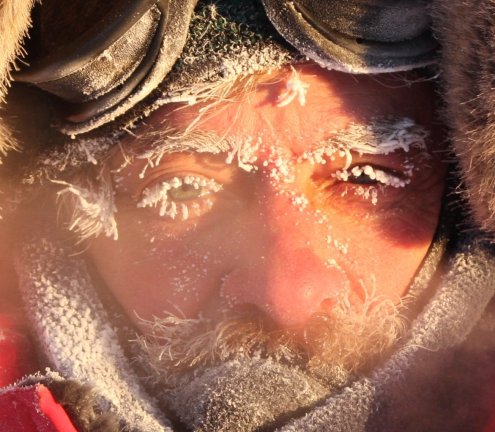 frosted face at -80 F

We had a few days where we saw yukimarimos on the ice. I have seen these before, but only when it is dark. This is the first time that it was light enough outside to actually see them form, so I figured out where they come from. When the temperature drops rapidly here (at least 20 F or so), we get some condensation of the little moisture there is in the air which drops out and forms hoar frost, a fluffy coating of frost, on the surface of the ice. If the winds are right (between about 4 and 8 kts) the winds start creating and blowing small fluffy balls of snow which grow in size as they tumble across the Antarctic plateau, much like when a child makes a snowball. The only difference is that these small snow balls are so fluffy that they will disintegrate easily if you touch them.
holding a yukimarimo
I managed to get some high-definition video of them forming.
There is an article about yukimarimos in Nature
http://www.nature.com/news/1999/990902/full/news990902-9.html
April: the first visible aurora, stars and DARKNESS!