April, 2010...

.

J. Dana Hrubes...updated April 30, 2010 , 0053 GMT
(CLICK ON UNDERLINED LINKS FOR PHOTOS....CLICK "BACK" ON YOUR BROWSER TO RETURN TO THIS PAGE)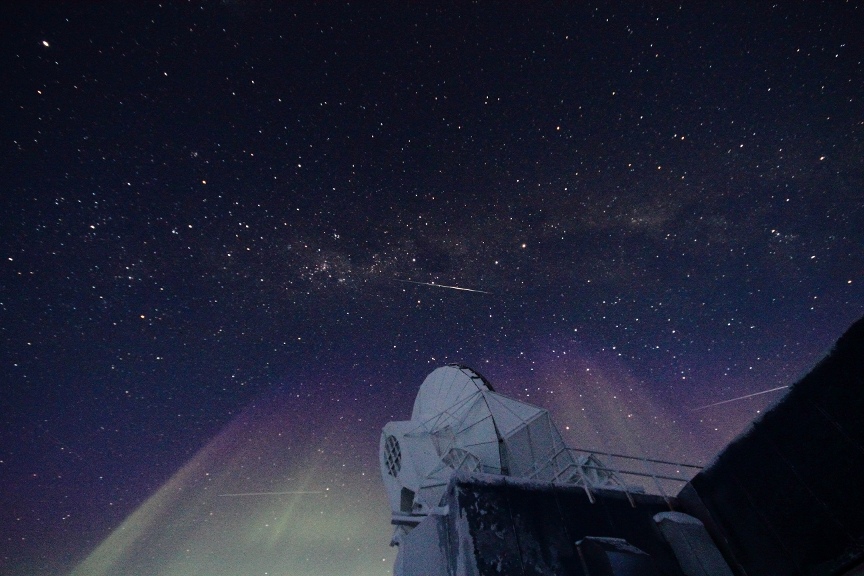 South Pole Telescope back-lit by an aurora and three satellite traces in this 30 second exposure

April is the month when we first start seeing the skies filled with stars, auroras and traces produced by the sunlight reflecting off of polar orbiting satellites down to the polar plateau. The skies appear to be crowded with satellites because all polar orbiting satellites cross at the poles. aurora and SPT aurora and SPT (2) aurora and SPT (3) aurora and SPT (4) (telescope is blurred because it is scanning the skies) SPT twilight aurora

Early in the month there was a bit of twilight left. dark sector twilight SPT twilight station twilight SPT backlit by the setting moon setting moon over ARO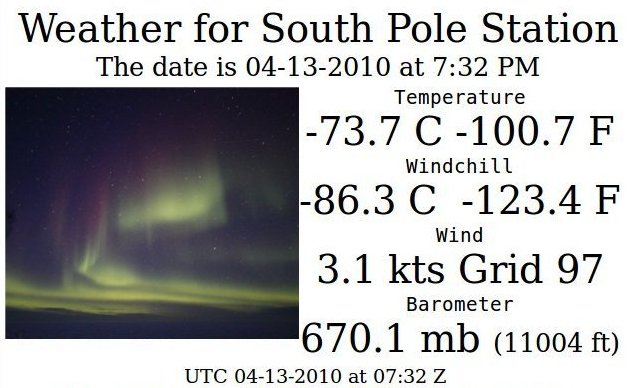 It has been a record breaking month for low temperatures. We dropped below -100

o

F (-73.2

o

C) the second earliest date in the season on record. It was an early 300 club this year! In addition, this was the coldest April on record. The monthly average temperature was -80.7

o

F/-62.6 o C, breaking the previous record set in 1998. This month was 9.4 o F/5.2 o C below normal.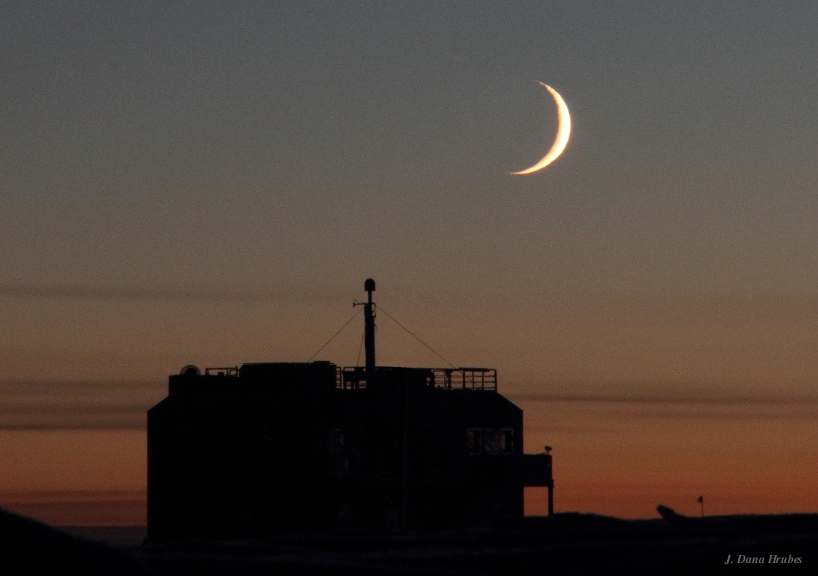 The Atmospheric Research Observatory and the setting moon at the beginning of April


Iridium satellites of particular orbital planes were flaring several periods this month. When the 11 iridium satellites of one of the 6 orbital planes are in the correct position, the flat antennas reflect sunlight down to the earth creating extremely bright "flares" of magnitude up to -8, the brightest thing in the sky after the moon. Since we are right at the geographic South Pole, where all 66 iridiumm satellites cross, we get iridium flares every 9 minutes and ten seconds for 4-5 days at a time. iridum satellite flare over the Dark Sector Laboratory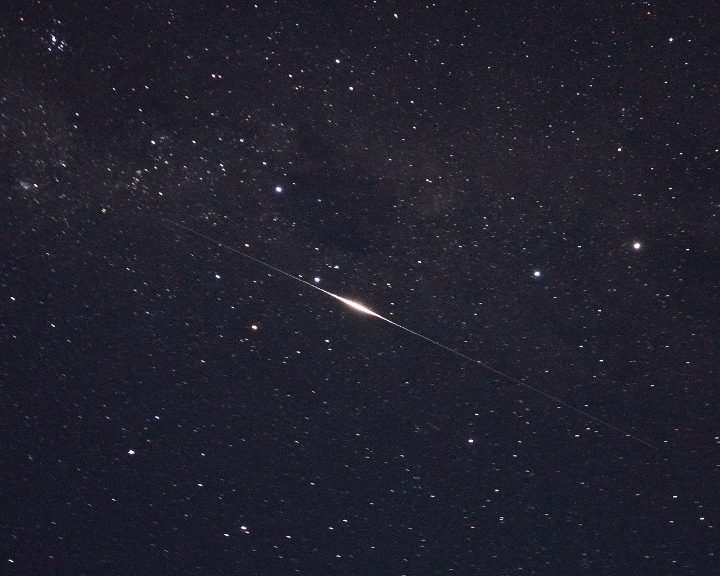 A magnitude -7 iridium satellite flare through the Southern Cross and near Alpha and Beta Centauri



I stopped by the balloon inflation facility a week ago and watched the launch of a NOAA ballon, piggy-backed with a meteorological data package. NOAA measures atmospheric parameters and gas concentrations including ozone.

balloon launch at -80 F

How do I monitor the telescope when I am in my room during sleeping hours? I have three networked computers in my room and I can monitor and control the telescope from there. I usually wake up about once an hour or less and look over at the computer screens to check things. If I see a problem, I can frequently fix issues like computer or daemon crashes that occur with the many networked computers on the telescope, but sometimes I have to get dressed and walk the mile out to the dark sector to fix things if it is a more serious computer issue or some other type of problem.

computers in my room

Next Month - May: More Darkness - Auroras - Stars!


Recent South Pole Telescope Technical Papers


A Real-Time Photo of South Pole Station as Seen from the ARO Building (live when satellite is up)
A Comprehensive South Pole Web Site by Bill Spindler
Winterover Web Pages (Bill Spindler's List)


BACK TO MY SOUTH POLE 2010 PAGE