June, 2010...

.

J. Dana Hrubes...updated June 30, 2010 , 0711 GMT
(CLICK ON UNDERLINED LINKS FOR PHOTOS....CLICK "BACK" ON YOUR BROWSER TO RETURN TO THIS PAGE)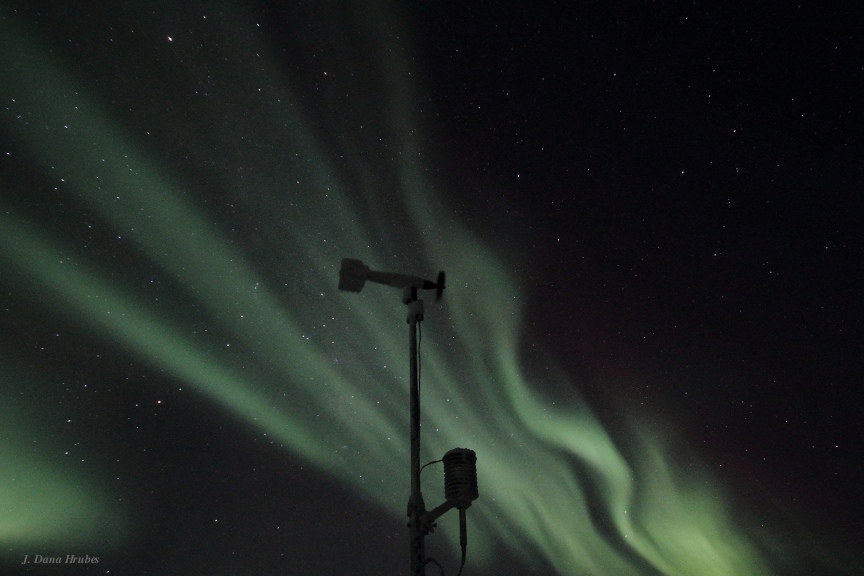 The Dark Sector Laboratory weather station back-lit by Aurora Australis

June is the month when the sun reaches its lowest point below the horizon, reminding us that we have 3 more months of eternal darkness until the sun rises on September 21st. There have been some beautiful auroras and numerous days with crystal clear skies. aurora and dark sector lab roof aurora, weather station and green ice aurora and weather station

I spend most of my waking hours over at the Dark Sector Laboratory and South Pole Telescope (SPT) so that is where I take most of my photos, but I took some photos of the starry skies on my walk in to the station one day. That is why I always carry a tripod in my backpack.

stars

over destination alpha at main station stars over the main station and destination alpha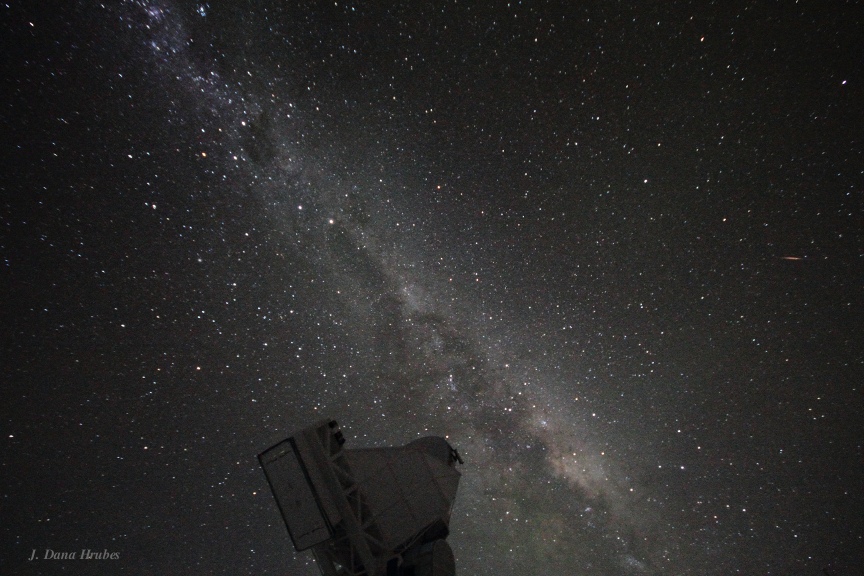 South Pole Telescope back-lit by the center of our Milky Way galaxy


More starry skies: Milky Way and the Large Magellanic Cloud, one of our closest galaxies

Milky Way and SPT

Milky Way - SPT SPT - Milky Way stars over the Dark Sector Laboratory (DSL)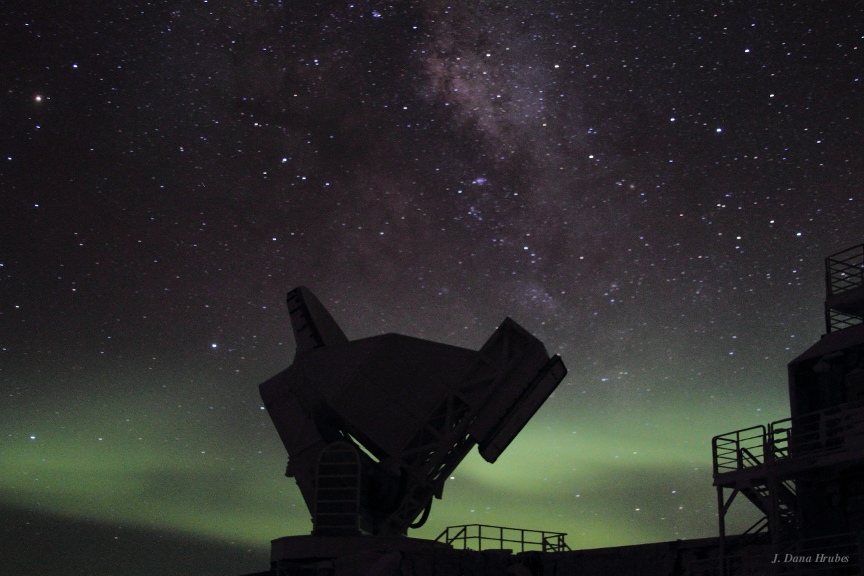 South Pole Telescope back-lit by our Milky Way galaxy and Aurora Australis
There were some spectacular auroras this month. Some were so bright that the Antarctic plateau was bright enough to help aid in the walk out to the Dark Sector Laboratory and SPT.
SPT and aurora
SPT aurora stars
SPT large aurora
aurora and IC neutrino laboratory
ice glow of bright aurora behind camera (main station a mile away)
Here are some bright aurora that reflected from the 10 meter diameter telescope and the primary mirror.
reflected aurora
telescope reflected aurora
Here are some colorful aurora with lots of red.
IC neutrino lab aurora
SPT, DSL aurora
SPT, DSL
DSL, SPT
SPT aurora
ICL aurora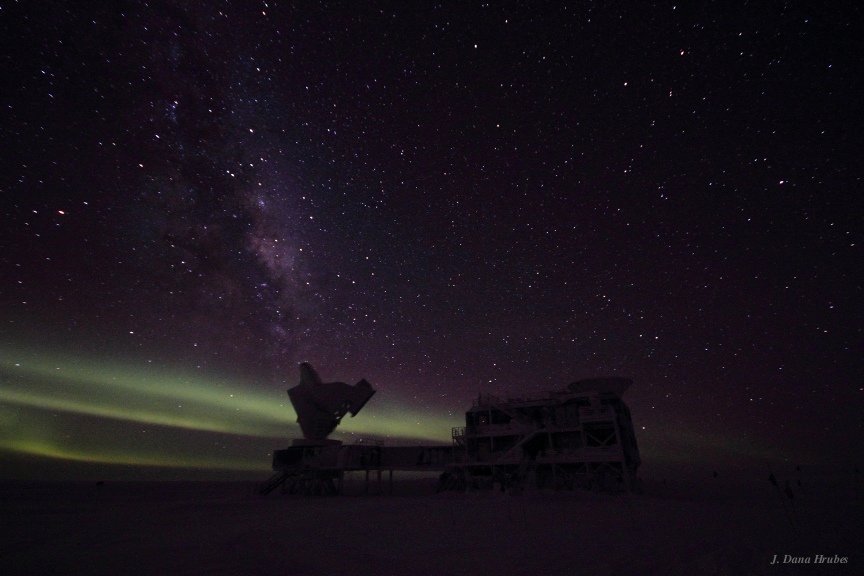 Aurora Australis and the Milky Way back-lighting South Pole Telescope and the Dark Sector Laboratory
As we were watching aurora Australis from the ice surface of Antarctica, astronauts on the International Space Station were watching them over Antarctica from above.
Antarctic aurora from the international space station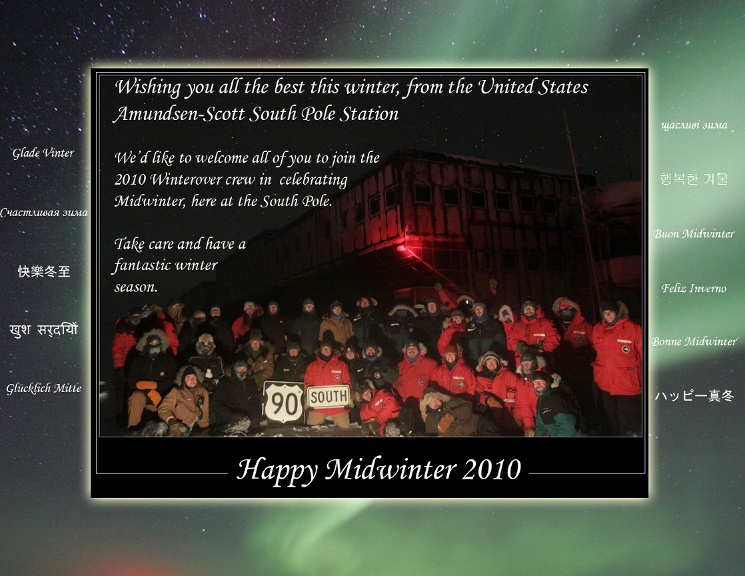 Our midwinter solstice greetings to the other stations on the continent of Antarctica, June 21st


Next Month - July: Continued Darkness and the Coldest Month!


Recent South Pole Telescope Technical Papers


A Real-Time Photo of South Pole Station as Seen from the ARO Building (live when satellite is up)
A Comprehensive South Pole Web Site by Bill Spindler
Winterover Web Pages (Bill Spindler's List)


BACK TO MY SOUTH POLE 2010 PAGE
BACK TO MY BI-POLAR HOME PAGE