September, 2011 ...

.

J. Dana Hrubes...updated September 30, 2011, 2013 GMT
(CLICK ON UNDERLINED LINKS FOR PHOTOS....CLICK "BACK" ON YOUR BROWSER TO RETURN TO THIS PAGE)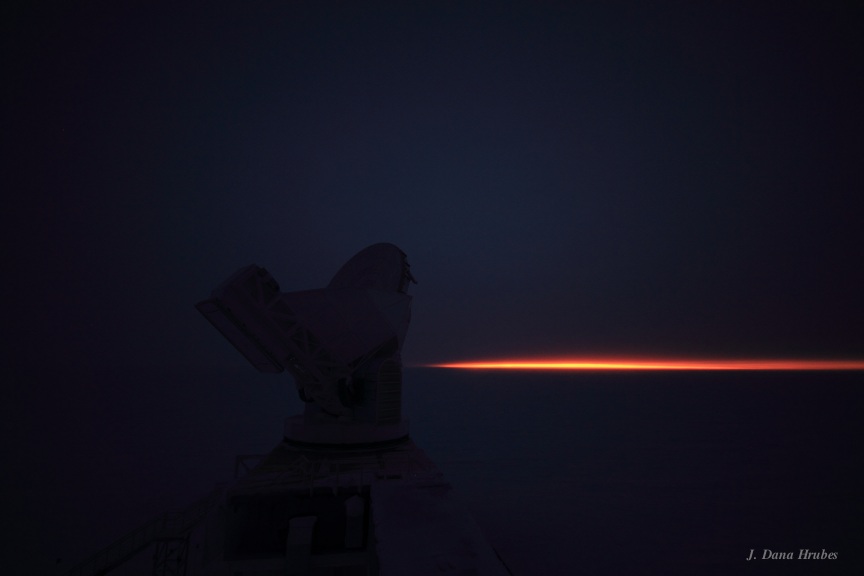 The South Pole Telescope (SPT) and the first hint of the upcoming sunrise during civil twilight

September is the month at the geographic South Pole when the sun finally rises after six months. It did rise around September 21st, but we have had about two weeks of heavy storms up to the end of the month, so we have only seen the sun during part of one day so far. I didn't take many photographs this month because of the lousy weather.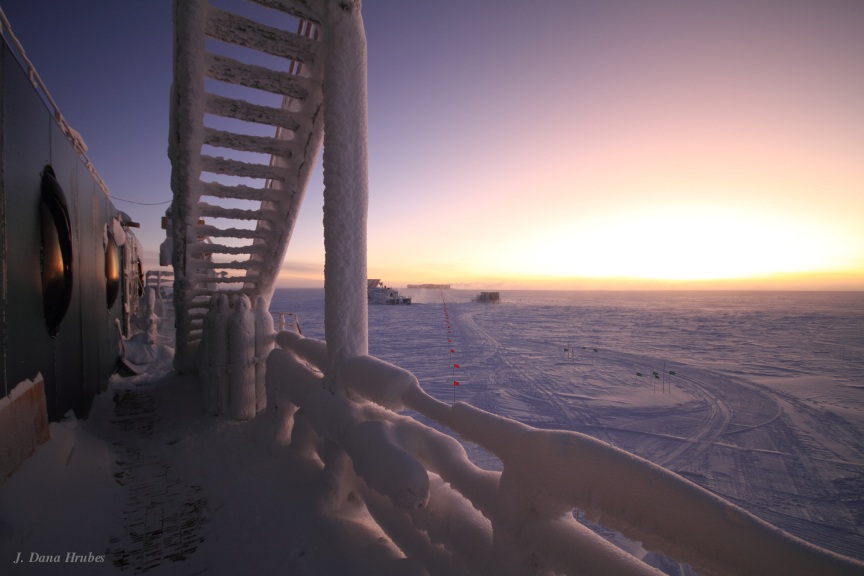 The Dark Sector Laboratory (DSL) a few days before sunrise, with the main station at the end of the flagline almost a mile away


As twilight progressed, one could see snow covered objects and drifts that formed during the long dark winter and the reminder of how much snow shoveling is ahead of us.

Marco cross country skiing several miles at 90 below zero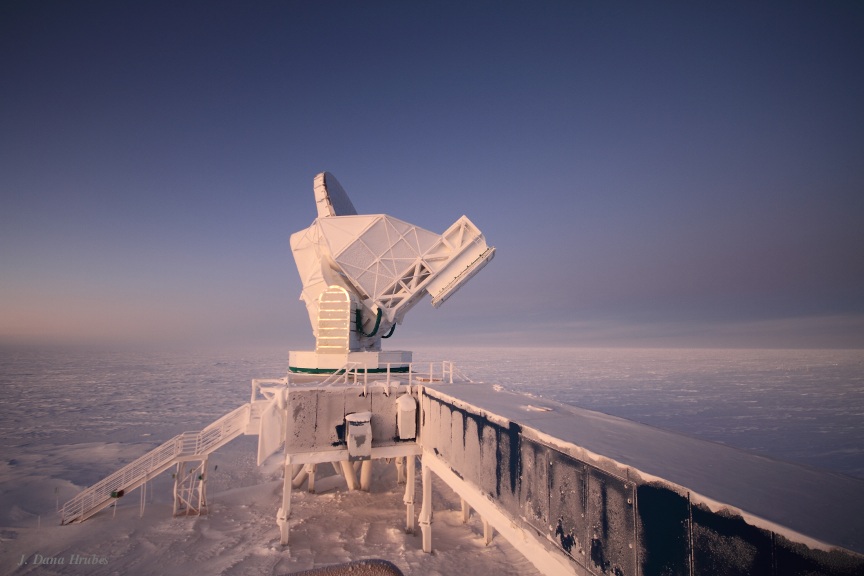 The South Pole Telescope a few days before sunrise


Just a few days before sunrise a series of huge storms blew in with winds reaching over 50 miles per hour. I still had to walk the mile out to the telescope every day, but it was a bit challenging. We conducted telescope CMB observations throughout the storm, but, at times, our signal to noise was reduced somewhat. Our microwave imaging still made progress, but at a slightly lower rate.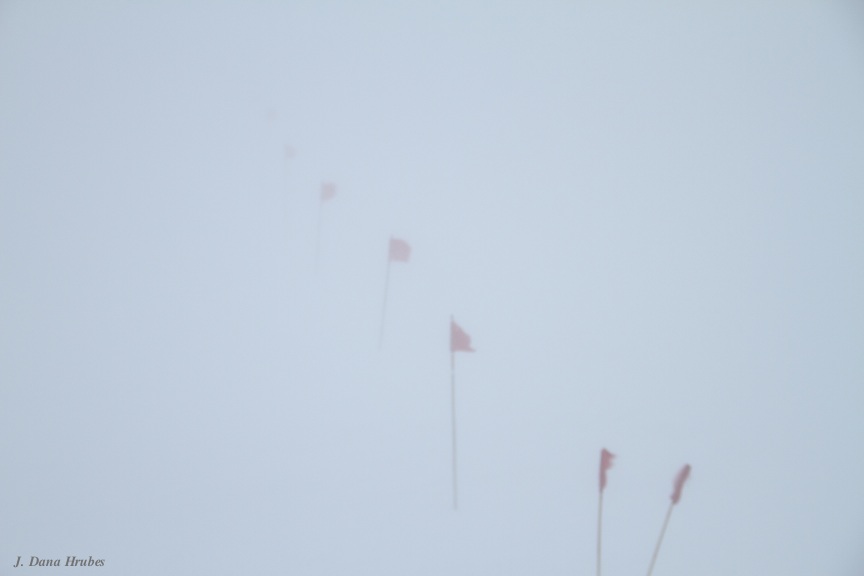 Just before sunrise a series of huge storms blew in and lasted for almost two weeks. Here the flagline is starting to disappear.

storm beginning
flagline disappearing
whiteout
SPT obscured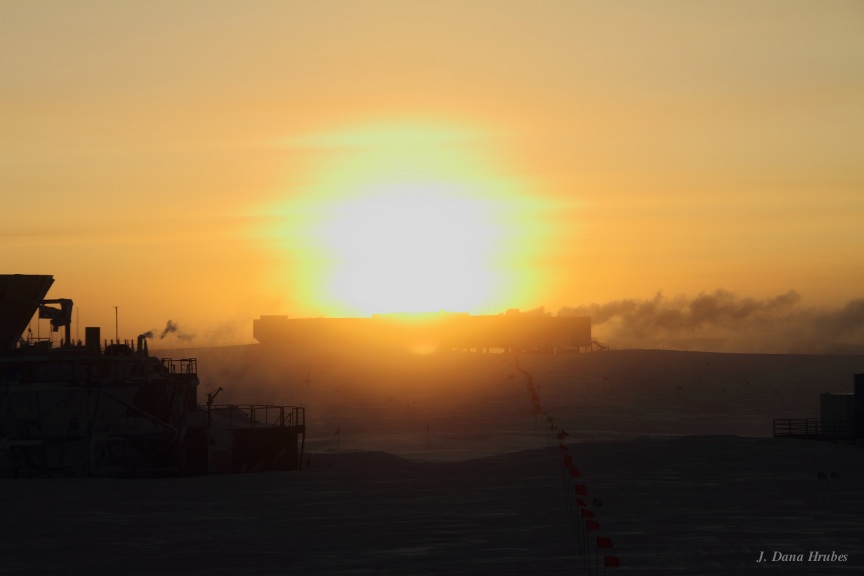 A 12 hour break between storms showed us that the sun did indeed rise. This was 3 days after sunrise and during our special sunrise dinner.



The South Pole Telescope continued to operate well this past month and we are getting very close to completion of our 5 year wide area galaxy cluster survey using the Sunyaev-Zel'dovich effect. In addition to conducting normal telescope operations, data quality analysis and computer software upgrade work, we also addressed typical troubleshooting and repair issues.

Numerous technical papers have been published by the SPT team over the past couple of years on the discovery of massive galaxy clusters, their relation to Lambda-CDM cosmology and the impact they have on the understanding of dark energy. Other results include the discovery of other point sources such as dusty star-forming galaxies and refinements of the cosmic microwave background (CMB) power spectrum at small angular scales.

(click on technical paper link below)



Next month - October: Anticipating the first Aircraft Since February 14th!


Recent South Pole Telescope Technical Papers


A Real-Time Photo of South Pole Station as Seen from the ARO Building (live when satellite is up)
A Comprehensive South Pole Web Site by Bill Spindler
Winterover Web Pages (Bill Spindler's List)


BACK TO MY SOUTH POLE 2011 PAGE