April, 2013...

.

J. Dana Hrubes...updated April 30, 2013, 1200 GMT
(CLICK ON UNDERLINED LINKS FOR PHOTOS....CLICK "BACK" ON YOUR BROWSER TO RETURN TO THIS PAGE)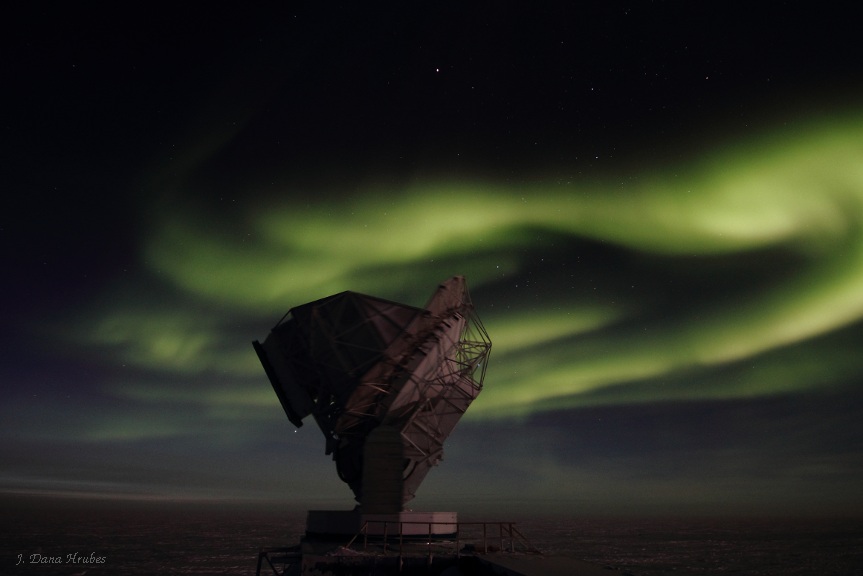 Aurora Australis dances over the moonlit South Pole Telescope (SPT)

The first auroras of the season have appeared, although the moon was up for its two week period. Moonlight washes out the full magnitude of Aurora Australis and makes the photography more challenging. Once the moon sets for two weeks at the beginning of May, the show will be even more spectacular. aurora-SPT-1 aurora-SPT-2
aurora-SPT-3 aurora-SPT-4 aurora SPT-5 aurora backlighting weather station wind-bird aurora and wind-bird on DSL roof

the South Pole Telescope (SPT) bathed in moonlight moonlit SPT

We did a moon observation recently to characterize the telescope response. The moon was at about 18-1/2 degrees elevation. SPT observing the moon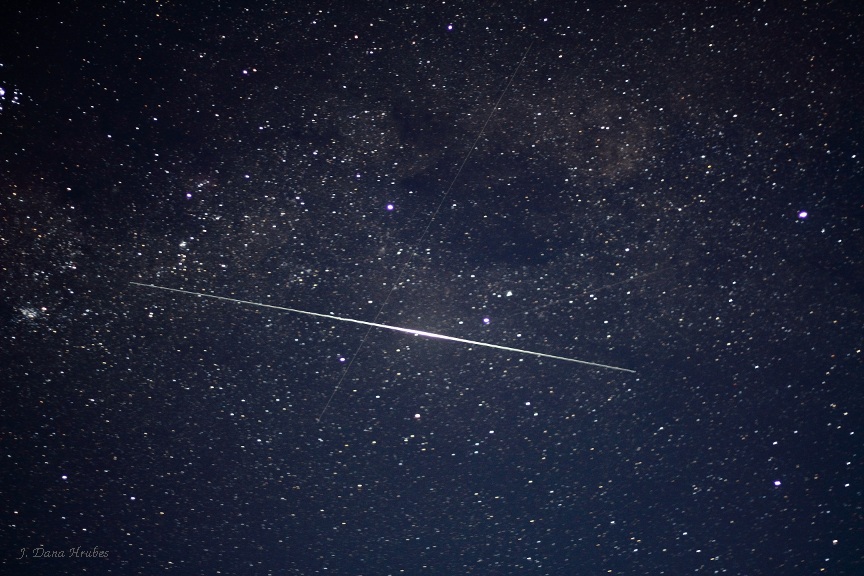 Sunlight reflects from the antenna of a polar orbiting Iridium satellite as it appears to pass through the Southern Cross constellation.
A fainter trace of another polar orbiting satellite simultaneously crosses paths with the Iridium satellite.

The antennas of the polar orbiting Iridium communication satellites on one of the 6 orbital planes lined up with the sun that is below the horizon causing them to reflect sunlight down to the South Pole area. For several days these Iridium "flares" were visible every 9 minutes and 10 seconds with magnitudes as bright as -8, which is brighter than Venus and the next brightest thing after moonlight. There are 11 satellites (not counting spares) in each of the 6 orbital planes. These low earth orbit satellites make a polar orbit around the Earth in a bit over 100 minutes.
Iridium flare
Iridium flare close-up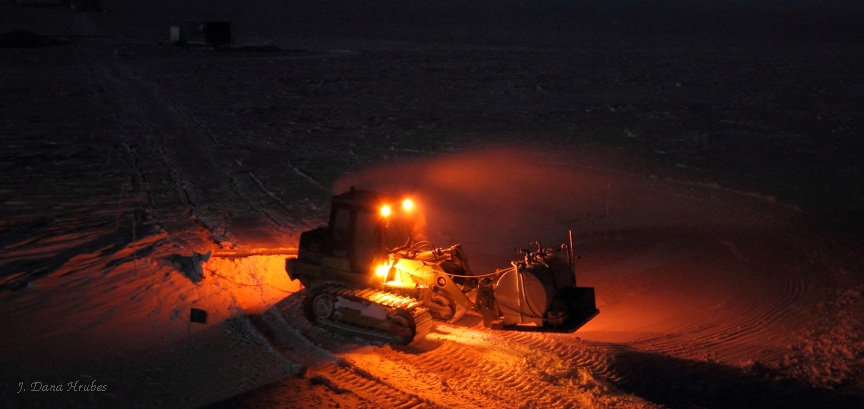 In temperatures of -84 F (-65 C)
heavy equipment operator, Josh, arrives at the Dark Sector Laboratory with our weekly fuel delivery.
Josh leaving the dark sector after delivering fuel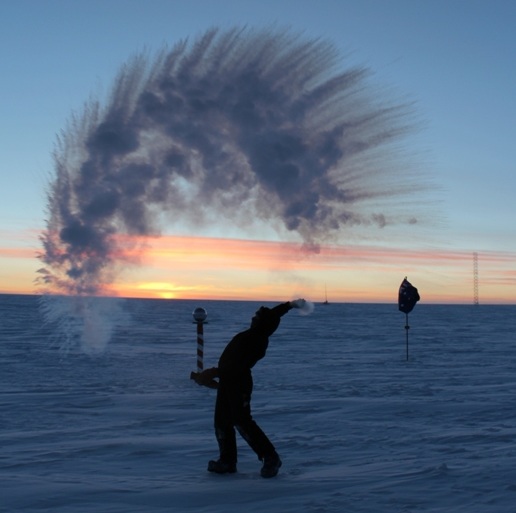 What happens when you throw boiling water into the air at nearly -90 F (-68 C) at sunset?

It flash freezes and ice crystals "rain" down on to the polar plateau

[photo by W. Heist]


The South Pole Telescope (SPT) is referenced in the CBS sitcom "Big Bang Theory". Check

out the whiteboard contents showing "SPT 0346–52" with a spectral flux

density of ~ 30 milli-Janskys [mJy].

The ultra-luminous source SPT-0346-52 was discovered with our telescope and is among the highest-redshift

starburst galaxies known.
"Big Bang Theory" whiteboard




Next Month: May - Beautiful Night Sky!


Recent South Pole Telescope Technical Papers


A Real-Time Photo of South Pole Station as Seen from the ARO Building (live when satellite is up)
A Comprehensive South Pole Web Site by Bill Spindler
Winterover Web Pages (Bill Spindler's List)


BACK TO MY SOUTH POLE 2013 PAGE